Lawn3's team of professionals is dedicated to the best lawn care. We provide the very latest in lawn treatment technology combined with our renowned customer service to give all of our clients the most positive experience possible, every time.
We pride ourselves on producing lawns that our customers can be proud of. We are also cheaper than many other do-it-yourself methods. From just £15 per treatment, our customers can enjoy professional-level lawn care without paying more than they can afford.
Every treatment we apply, whether fertilisers, herbicides, insecticides or moss control products are state-of-the-art.
Our Team
We provide all our staff with lawn training programmes that have been recognised to be the most comprehensive in the industry. When you call us, you will not get a temporary staff member, but a staff member who is qualified to treat and care for your lawn.
Every operator we employ holds a full PA1 and PA6 NPTC qualification. This certifies them to purchase, prepare and calibrate all of the professional herbicides and sprayers Lawn3 uses. This certification ensures that all products are applied at the correct rate and without risk to our employees, your family members or the environment.
Professional Lawn Care for All Seasons
Although most families will enjoy their lawns during the spring and summer months, it requires proper treatment year-round in order to be healthy for the warmer seasons. Our products and programmes ensure that your lawn receives the right nutrients at the right time of year in the right amount.
Lawn3 treats every lawn as an individual case. As such, each client's lawn receives only those products that are right for it. At the minimum, your lawn can benefit greatly from seasonal moss and weed control products as well as fertiliser.
Call Us for a Free Assessment
Lawn3 is happy to offer a free, no-obligation assessment of your lawn. This assessment includes a thorough examination of your lawn for any potential issues like moss, chafer grubs and weeds. Then, we provide you with a suggested programme to restore your lawn back to health. Booking your assessment is easy; simply visit our contact page to email us, or call us on 01332 523856 to speak with one of our experienced team members. We look forward to helping you revive your lawn!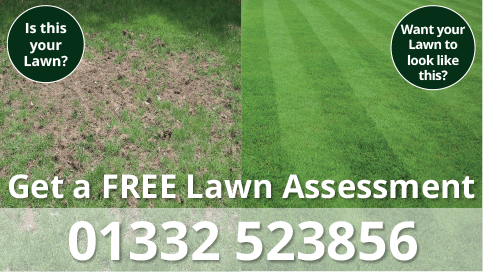 Chafer Grubs
Chafer grubs are the larvae of the chager beetle. They cause problems on                   lawns by feeding on roots of grass                           plants. Read more…

General Lawn Tips
At Lawn 3 there is nothing we like better than a lush, verdant lawn that                         looks great all year round. Read                             more…

Lawn Treatments
Lawn3's range of lawn care treatments allows you to achieve the lawn of your                     dreams. Read more…

Leatherjackets
These are one of the most common lawn problems. They are the larvae                         stage of the Common Crane Fly.  Read                   more…

Moss
Most untreated lawns in the UK are plagued by moss. This plant has been                     around for over 400 million years.                           Read more…

Weeds
Not only do weeds make your lawn look unsightly, but they will also                               compete with your grass for light, water                   and nutrients. Read more…
---
FAQ
Answer…
Yes! Our fertilisers are slow-release and last for up to three months. This is twice as long as off-the-shelf products. We also apply the right products on your lawn at the right time of year, meaning zero waste. Not only does it cost less, but it requires far less effort than DIY.
Answer…
Lawn 3 specialises in the treatment and restoration of your lawn. We offer several types of lawn treatment which are detailed below.
Year-Round Treatment

Mar\Apr – We apply spring fertiliser and weed treatment to your lawn
May\Jun – We apply early summer fertiliser and weed treatment to your lawn
Jul\Aug – We apply late summer fertiliser and weed treatment to your lawn
Sept\Oct – We apply liquid iron treatment to your lawn to control moss and protect it over the winter
Nov – We apply crane fly (daddy long legs) treatment to your lawn to prevent infestation in the spring
Supplementary Treatments

These treatments can be included with your year-round treatment, or ordered independently.
Scarification – We remove moss and/or thatch from your lawn, which improves oxygen, water & nutrient levels in the soil
Aeration – This treatment improves drainage, provides space for root growth in your lawn, and allows nutrients and oxygen to the root zone
Miraclemoss – Our own organic moss control treatment, safe for pets, wildlife and your border plants
Pest Control – Chafer Grub treatments to rid your lawn of dead spots
Mowless – A treatment that reduces the speed of your lawn's growth, reducing the need to mow and resulting in a much healthier lawn

Answer…
Garden centre products are diluted so that no professional qualifications are required to buy or apply them. But this also means that they can be less effective when applied to your lawn. As well, many of these products are a mixture of lawn food, moss killer, greener and weed killer, which also compromises their effectiveness.
As well, garden centre products are designed to give a flush of growth so that you see visible results sooner. Unfortunately, much of the solution is too strong to be absorbed by your lawn and simply washes away. All of the operators at Lawn 3 are NPTC qualified, able to purchase and apply professional-strength fertilisers and weed killers to your lawn.
All of the products Lawn 3 applies are slow release, which allows a carefully regulated release of nutrients into the soil for a lawn that not only looks healthy on the surface, but really is healthy all the way from root to top.

"Stephen Monk Lawn 3 has been looking after our lawn for nearly three years , and we are very pleased with the personal service he provides and the results achieved to date. Previously over a period of some last seven years we had a similar service from two other lawn care providers. In each case we decided, after a reasonable period, that they were not providing the service we had expected. We found Lawn 3 by an internet search, and were impressed by the personal service referred to in the website testimonials Our lawn has suffered for many years with red thread. We are currently nearly free of this thanks to Stephen. He takes considerable pride in his work and makes you feel your lawn is important to him. He is extremely approachable whilst providing a professional caring service often giving simple self help tips to improve the lawn. Thanks Stephen"
Graham Motteram - Turnditch Derbyshire
,

"Dear Steve, Lawn3 reseeded our lawn in the spring and we are very pleased with the result. Rather than a lawn filled with dandelions and Mind Your Own business we now have a beautiful thick green lawn - too nice to walk on! Steve is always helpful, keeps to his appointment times and has gone out of his way to give us extra advice. For anyone wondering whether to go for laying turf or seeding a lawn I would definitely recommend the latter. Our garden is shaded by a large tree so Steve has seeded with a shade tolerant grass seed - we are delighted. Thanks Steve"
Diane Moss, White Street, Derby
,